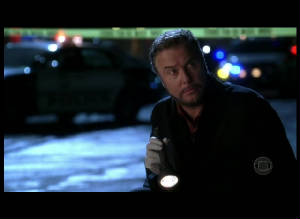 William Petersen (Gil Grissom)
Life Stats

Birth Name: William Louis Petersen

DOB: 21 Feb 1953

POB: Evanston, Illinois

Height: 6'1"

Marital Status: Married, 1 daughter

Biography

Petersen, though born in Illinois, attended Bishop Kelly High School in Boise, Idaho, then Idaho State U on a football scholarship. There, he found acting. Petersen soon became involved with the renowned Steppenwolf Company in Chicago, Illinois. The young actor's training would eventually pay off big, as he would go on to star in numerous big-screen hits, such as, To Live and Die in L.A., Manhunter, The Skulls, and The Contender. It was not until he got his role as Gil Grissom on CSI: Crime Scene Investigation that William Petersen became a household name.

Starred in...

Haven (2001) (TV)

"CSI: Crime Scene Investigation" (2000)

The Contender (2000)

The Skulls (2000)

Kiss the Sky (1999)

The Rat Pack (1998) (TV)

The Staircase (1998) (TV)

Gunshy (1998)

12 Angry Men (1997) (TV)

The Beast (1996) (TV)

Mulholland Falls (1996) (uncredited)

Fear (1996)

In the Kingdom of the Blind, the Man with One Eye is King (1995)

Present Tense, Past Perfect (1995) (TV)

Curacao (1993) (TV)

"Return to Lonesome Dove" (1993) (miniseries)

Keep the Change (1992) (TV)

Passed Away (1992)

Hard Promises (1991)

Young Guns II (1990)

"The Kennedys of Massachusetts" (1990) (miniseries)

Cousins (1989)

Long Gone (1987) (TV)

Amazing Grace and Chuck (1987)

Manhunter (1986

To Live and Die in L.A. (1985)

Thief (1981)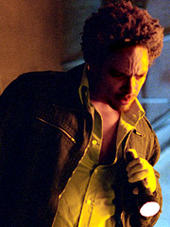 Gary Dourdan (Warrick Brown)
Life Stats
Birth Name: Gary Durdin
DOB:
11 Dec 1966
POB: Philadelphia, Pennsylvania
Height: 6'2"
Marital Status: Divorced
Biography
Six-year-old Gary Dourdan worshipped his older brother Darryl, a DJ at a local Philadelphia radio station, but Darryl died under mysterious circumstances when he fell off a hotel balcony while on a trip to Haiti. It's a mystery that remains unsolved to this day, but Darryl's influence has steered Gary's life. He became a DJ in Philadelphia and now, along with his acting career, produces jazz musicians for a European label. His break in acting came when he was in Paris and ran into actress and director Debbie Allen on the Champs D'Elysees. He sent her his audition tapes, and kept doing it, until one day he got a callback and landed a role as what he affectionately called a "jive-talking knucklehead" on A Different Strokes. When CSI first launched, Gary, like his co-stars, thought it was good but never expected it to last or became the hit series it is now. He's enjoying working on the series, as we ll as the latitude from the producers so that he can work on both CSI and make movies at the same time. Gary resides in Venice Beach, California.
Starred in...
"Lyric Cafe" (2002) (TV series)
Impostor (2002)
"CSI: Crime Scene Investigation" (2000)
"Soul Food" (2000) (TV series)
Dancing in September (2000)
Trois (2000)
King of the World (2000) (TV)
New Jersey Turnpikes (1999)
Rendezvous (1999) (TV)
The Weekend (1999)
Thursday (1998)
Scar City (1998)
Fool's Paradise (1997)
Get That Number (1997)
Alien: Resurrection (1997)
Playing God (1997)
"Swift Justice" (1996) (TV series)
Sunset Park (1996)
"The Office" (1995) (TV series)
Keys (1994) (TV)
The Paper (1994)
Laurel Avenue (1993) (TV)
Weekend at Bernie's II (1993)
The Good Fight (1992) (TV)
"A Different World" (1991-1993) (TV series)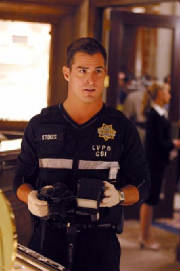 George Eads (Nick Stokes)
Life Stats
Birth Name: George Coleman Eads III
DOB:
01 Mar 1967
POB: Fort Worth, Texas
Height: 5'11"
Marital Status: Single
Biography
George Eads grew up in Belton, Texas, born to Arthur Eads, a district attorney, and Vivan, a junior high school principal. George was a typical Texas boy, and became a football player in high school. He acted in school plays, but when he went on to college, he earned his business degree from Texas Tech University. But the business world wasn't for him, and he attended the Texas KD Studio Acting Conservatory. Like many aspiring actors, George moved to Los Angeles, where he took on a variety of odd jobs to pay the rent, all the time auditioning for roles. A small role on the NBC power drama ER soon beckoned. It started small, but soon George's character became the guy you wanted to hate: he became a block between George Clooney's and Julianna Margulies characters. In time, CSI was being cast, and Nick got the role after two auditions for the role. Little did he know that he would soon be a familiar face to millions of viewers around the globe. And co-star Jorja Fox labels him the biggest practical joker on the set. George lives in Hollywood in a two storey home with his Labrador Maverick, who even comes to work with him.
Starred in...
Evel Knievel (2004) (TV)
Monte Walsh (2003) (TV)
Second String (2002) (TV)
Just a Walk in the Park (2002) (TV)
"CSI: Crime Scene Investigation" (2000)
"Grapevine" (2000) (TV series)
The Spring (2000) (TV)
Crowned and Dangerous (1997)(TV)
The Ultimate Lie (1996) (TV)
"Savannah" (1996) (TV series)
Dust to Dust (1994)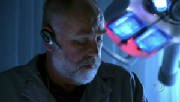 Robert David Hall (Dr. Al Robbins)
Life Stats
Birth Name: Robert David Hall
DOB:
09 Nov 1947
POB: East Orange, New Jersey
Marital Status: Married
Biography
Robert David Hall is an accomplished film and television actor who has appeared in movies such as The Negotiator and Starship Troopers, as well the Emmy-award winning TNT mini-series Andersonville. His television appearances include West Wing, Judging Amy, Family Law and course CSI as coroner Dr. Robbins. He says that he got the role because "they chose me because they thought I looked like a coroner." Viewers may notice that Hall occasionally uses a cane in his role as the coroner. It's not a prop, but something he uses in his daily life. On July 10, 1978, at the age of 31, he was driving along in his Volkswagen when an 18-wheel truck, driven by a drunk driver, crossed the median and struck his vehicle head on. He was trapped in the burning car but fortunately rescued by a passing motorist and a firefighter. The burns, over 65% of his body, were so severe that his legs were amputated above the knee. His first stint in the burn ICU was three months long, and and he spent 3 months in the burn ICU unit, as well as many more months recovering. He now uses prothestics to walk. His role in the 1991 film Class Action closely parallels his life. Hall is active in advocating changes for the disabled in the entertainment industry, and serves on professional, government and charitable boards, such as Media Access Office (to create opportunities for people with disabilities), and Other Voice Playwright's Lab (for disabled actors in theater). Besides acting, Hall is a disc jockey for an alternative music station, announces for national commercials, and plays guitar and sings with live band.
Starred in...
Patient 14 (2004)
My Father's House (2002)
"CSI: Crime Scene Investigation" (2000) (credited episode 47+)
The Burkittsville 7 (2000) (TV)
The Negotiator (1998)
Starship Troopers (1997)
Prison of Secrets (1997) (TV)
Andersonville (1996) (TV)
Dream Lover (1994)
Once Upon a Forest (1993) (voice)
Class Action (1991)
Here Come the Littles (1985) (voice)
Deal of the Century (1983) (uncredited)
"The Littles" (1983) (TV series) (voice)


Marg Helgenburger (Catherine Willows)
Life Stats
Birth Name: Mary Marg Helgenberger
DOB:
16 Nov 1958
POB: Fremont, Nebraska
Height: 5'6"
Marital Status: Married, 1 son
Biography
Born Mary Marg to Hugh and Kay Helgenberger, the Nebraskan, redhead bombshell attended Kearney State College in Nebraska, but would earn her degree in Speech and Drama while attending Northwestern Alumnus School of Speech in Evanston, Illinois. She was "discovered" there while performing as Kate in the campus production of Shakespeare's Taming of the Shrew. After finishing college, Marg landed her breakout role in tv soap, Ryan's Hope, where she would also meet her future husband. Helgenberger went on to snag two Emmys for her supporting role on the primetime drama, China Beach.
Starred in...
In Good Company (2004)
"CSI: Crime Scene Investigation" (2000)
Erin Brockovich (2000)
Perfect Murder, Perfect town: JonBenet and the City of Boulder (2000) (TV)
"Partners" (1999) (TV series)
Lethal Vows (1999) (TV)
Happy Face Murders (1999) (TV)
Giving Up the Ghost (1998) (TV)
Thanks of a Grateful Nation (1998) (TV)
Species II (1998)
Gold Coast (1997) (TV)
Fire Down Below (1997)
The Last Time I Committed Suicide (1997)
Murder Live! (1007) (TV)
Conundrum (1996) (TV)
My Fellow Americans (1996) (uncredited)
Just Looking (1995)
Inflammable (1995) (TV)
Species (1995)
Bad Boys (1995)
Blind Vengeance (1994)
Keys (1994) (TV)
Where are My Children? (1994) (TV)
Lie Down with Lions (1994) (TV)
The Cowboy Way (1994)
"When Love Kills: The Seduction of John Hearn" (1993) (miniseries)
Distant Cousins (1993)
The Tommyknockers (1993)
Through the Eyes of a Killer(1992) (TV)
In Sickness and in Health (1992) (TV)
Death Dreams (1991) (TV)
Crooked Hearts (1991)
Always (1989)
After Midnight (1989)
"China Beach" (1988) (TV series)
"Shell Game" (1987) (TV series)
"Ryan's Hope (1982-1986) (TV series)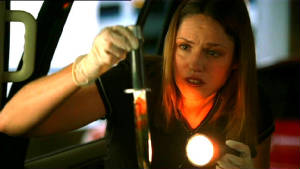 Jorja Fox (Sara Sidle)
Life Stats
Birth Name: Jorja-An Fox
DOB: 07 Jul 1968
POB: New York City, New York
Height: 5'9"
Marital Status: Single
Biography
Jorja Fox was born in New York City to French Canadian parents and raised in the small coastal town of Melborne Beach, Florida, but moved back to NYC after she won a modeling contest in Florida. Soon she began a modeling career, which took her various places, including Milan. At eighteen, she decided to concentrate on acting, studying with veteran actor William Hickey at New York's Lee Strasberg Institute. She made her movie debut in the 1989 independent flick, The Kill-Off, but it was her portrayal of Dr. Maggie Doyle on ER that propelled her on to bigger roles. She had a recurring role on NBC's West Wing as Secret Service agent Gina Tuscano, but then CSI came along. In addition to those mediums, Jorja is co-founder of the experimental theater group Honeypot Productions, and writes and stars in plays for the Los Angeles-based group. So far, she has written four of the group's five plays. The fourth play, Lovely Stanley, is a comedic romp about the women's bowling circuit. Jorja lives in Los Angeles, and enjoys travelling, playing guitar, and singing. She has a boxer named Ali, and two cats named Rumplestiltskin and Sid Poitier (they came with those names). She is also credited as Jorjan Fox.

Starred in...
Down with the Joneses (2003)
Forever Fabulous (2000)
"CSI: Crime Scene Investigation" (2000) (2nd episode+)
Memento (2000)
"The West Wing" (1999-2000) (TV series)
The Hungry Bachelor's Club (1999)
How to Make the Cruelest Month (1998)
Velocity Trap (1997)
"House of Frankenstein 1997" (1997) (miniseries)
"ER" (1996-1999) (TV series)
Alchemy (1995) (TV)
The Jerky Boys (1995)
Dead Funny (1994)
"Missing Persons" (1993)
Dead Drunk (1992)
Happy Hell Night (1992)
"Summer Stories: The Mall" (1992) (miniseries)
The Kill-Off (1989)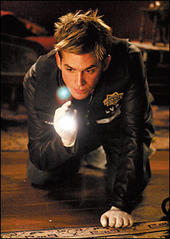 Eric Szmanda (Greg Sanders)
Life Stats
Birth Name: Eric Kyle Szmanda
DOB:
24 Jul 1975
POB: Milwaukee, Wisconsin
Marital Status: Single
Biography
Eric was born in Milwaukee and raised in the small suburban town of Mukwonago. Eric was active in theater throughout his school years; in fact, by the time he was 17, he had performed in nearly 20 plays. After graduating high school, he attended Carroll College in Wisconsin, participating in a variety of theater arts productions. Soon thereafter, he moved to California where he attended and graduated from the American Academy of Dramatic Arts in Pasadena, California. At one point was cast as Lysander in a touring production of A Midsummer Night's Dream, which took him as far as the Ukraine and Russia. He returned to Los Angeles to take on the role of Nick, the suicidal self-abusive teenager in the Odyssey Theatre's world premiere of Black Box. Television was around the corner, and he won the role of Jacob Resch, a 'skateboarding computer hacker,' in the USA Network series The Net. When the series was cancelled, he temporarily put aside his music business to concentrate more on acting, winning the lead role of Johnny Dodge, a "fearless, thrill seeking private investigator with a taste for fast cars and faster women" in the UPN pilot Dodge City. The show wasn't picked up for the fall schedule, so he took on a variety of guest roles in show such as Zoe, Three Sister, Freakylinks, The Division and more. Eric was also music consultant on Irwin Winkler's film Life as a House. Recently, he and co-founder co-founder/collaborator Jonathan Pavesi have been working on developing projects including a DVD series, a monthly club/digital film festival, and a TV show based on their own experiences as a young kid in the record industry.
Starred in...
The Rules of Attraction (2002)
Big Time (2000)
True Vinyl (2000)
"CSI: Crime Scene Investigation" (2000) (credited episode 47+)
100 Girls (2000)
Dodge's City (1999) (TV)
"The Net" (1998) (TV series)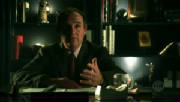 Paul Guilfoyle (Capt. Jim Brass)
Life Stats
Birth Name: Paul Guilfoyle, Jr.(?)
DOB:
12 Jul 1955
POB: Boston, Massachusetts
Height: 5'9"
Marital Status: Single
Biography
Paul Guilfoyle is a busy veteran actor whose roles have ranged from theater to film to television. His theatrical credits include Broadway productions of The Basic Training of Pavlo Hummel, Search and Destroy, Richard III, and Glengarry Glen Ross. His feature film credits include Random Hearts, Anywhere but Here, The Negotiator, Amistad, Air Force One, L.A. Confidential, Ransom, Extreme Measures, Striptease, Quiz Show, Mrs. Doubtfire, Wall Street and Primary Colors. On the small screen, Paul has appeared in the mob show Wiseguy, Kate & Allie, Law & Order, and Miami Vice. Made-for-television movies include Notorious, September, Curiosity Kills, Unnatural Pursuits, and Amelia Earhart.
Starred in...
Tempesta (2004)
Live From Baghdad (2002) (TV)
Pharaoh's Heart (2002)
Session 9 (2001)
"CSI: Crime Scene Investigation" (2000)
Company Man (2000)
"Secret Agent Man" (2000) (TV series)
Random Hearts (1999)
Anywhere But Here (1999)
In Dreams (1999)
The Negotiator (1998) (uncredited)
Primary Colors (1998)
Amistad (1997)
Air Force One (1997)
L.A. Confidential (1997)
Ransom (1996)
Extreme Measures (1996)
Striptease (1996)
Celtic Pride (1996)
Quiz Show (1994)
Naked in New York (1993)
Mrs. Doubtfire (1993)
Final Analysis (1992)
True Colors (1991)
Dealers (1989)
Wall Street (1987)
Three Men and a Baby (1987)
Beverly Hills Cop II (1987)
The Murderer (1976)
Next Door (1975)